TRENDING NOW: Industrial Chic Kitchens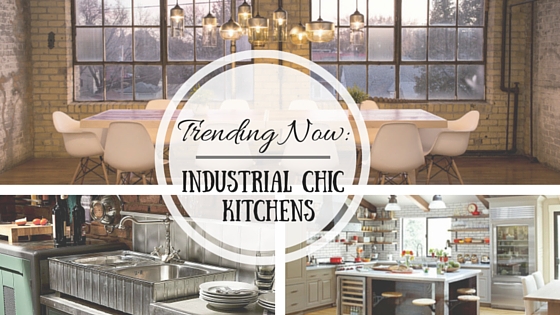 It's the start of a new year, which kicks off a year of new trends! One that is gaining popularity are industrial chic kitchens. From exposed brick and repurposed furniture to industrial lighting, it's not hard to see why this is a growing trend. Here are a few key elements we love about this look.
EXPOSED BRICK WALLS
The whole kitchen doesn't need to be surrounded with brick in order to be industrial chic. Simply having one accent wall with exposed brick will add that touch. The exposed brick adds warmth, style and will certainly be the element that makes your kitchen stand out.
METAL FIXTURES AND ACCENTS
You can get creative in the type of industrial looking kitchen you want. Think outside of the box when it comes to everyday things, like the kitchen sink! A larger metal sink can be a unique addition to your kitchen. Even metal shelving or a metal bar cart can do the trick. The sleek metal elements help tie in the overall industrial theme.
WOOD BEAMS AND REPURPOSED FURNITURE
This is one of our favorites because it's practical and unique. Wood beams on your kitchen ceiling add a beautiful, earthy tone that keeps your kitchen warm and inviting. You can also repurpose wood to create furniture, like the dining room table. This can be done with wood pallets or an old wood bookcase that has seen better days. Work with your contractor to find a new use for it. You will be surprised what a great piece of refinished wood will add to your kitchen.
LET THERE BE HANGING LIGHTS
Hanging lights in any kitchen are some of our favorite looks when it comes to finishing touches. It really adds to the feel of the whole room. There are so many beautiful options when working with lights in an industrial chic kitchen. Consider the old and unique edison bulb pendant lighting. We even suggest the hanging glass jar pendants which add the element of repurposing, while adding style.
Remember, industrial chic is all about showing your personality! So don't be afraid to let your contractor know what is important to you and your family to best incorporate your style. Reasons like this are why it's important to work with a contractor you trust. Alan, at Arlington Custom Builders, works with you to make sure all of your ideas are met. You can trust him to get the job done right!