Why Our Clients Trust Us With Their Home Remodels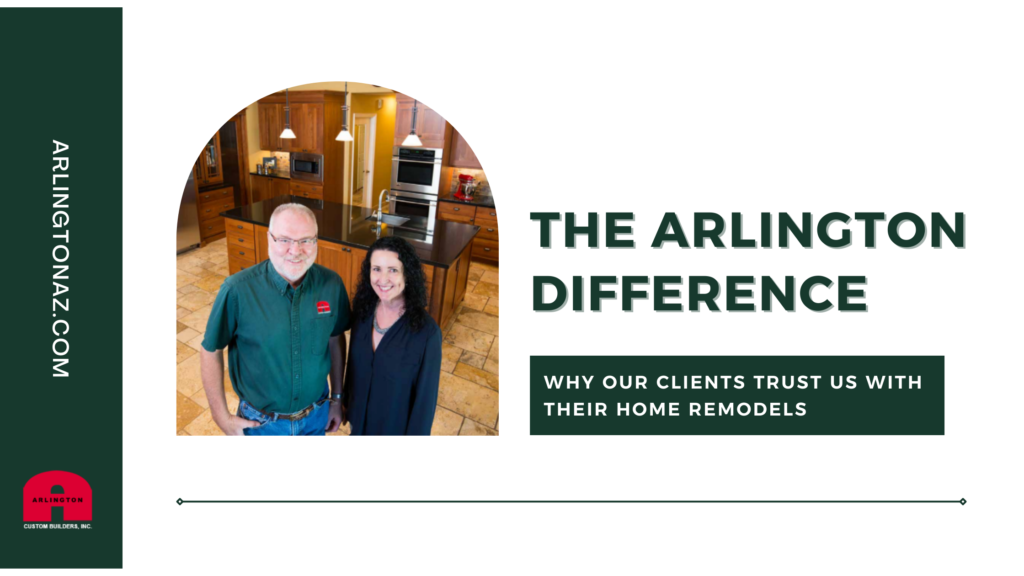 We know that all home remodels are a HUGE undertaking for homeowners, no matter how big or small the project is. You can imagine how stressful the thought of living at home while doing the remodel of your dreams is for many homeowners. So how do you know who to work with when remodeling your home? It is important to trust the people your contractor brings in for the remodel and that they will be respectful to your personal space at the same time. We take this very seriously! Let us explain why Arlington Custom Builders has been the trusted remodeler and custom builder in the valley for decades.
Our Motto Says it All
We often say, "When you buy quality, you only cry once." At, Arlington Custom Builders, we really believe this! Yes it's expensive to do home remodeling of any kind (kitchen, bathroom, etc) so the price tag can hurt (hence, the "cry once"). But the quality is important because not all contractors are created equal. You've heard the horror stories from your friends and neighbors about unreliable contractors showing up whenever it's convenient for them. Or all these extra charges with no explanation. The worst is when you hear about how contractors take your money and don't complete the job!
Our general contractor, Alan Anderson, prides himself in executing the remodel of your dreams! He respects the trust you put in him and his team and being in your home. Take a look at what some of his previous clients say about "the Arlington difference":
"Our job was completed as we requested and within original bid price. We were so thrilled to finally find someone honest and willing to work. I would recommend Arlington Custom Builders for any job, big or small. "

Maggie Provencher
"They say what they are going to do and they do what they say. If they specify an appointment time, you can set your watch to that time. If there is any change to the plan, they manage your expectations. The work quality is outstanding, and their subcontractors are courteous, professional, and excellent at their craft. They truly care about the finer details, which is refreshing."

Caroline Michiels
Alan kept our multi-phase project well-organized and completed on a timely basis and provided a really high-quality product. He limits the number of projects he does, so you really get his personal attention… Alan has a team of specialty subcontractors that he has worked with for many years they produce quality work. Since his team of subcontractors has worked together before, they prepare their work for the following subcontractor keeping both the quality high and the project on schedule.

Wayne Barker
Quality Above All Else
You see, it's not just that we want to win your business, so we say all these great things about our work. It's that we know we produce quality work and our clients feel that difference. We are sure you can save some money with another contractor, but do they have an interior designer that helps bring your vision to reality? We do! Or do they have complete satisfaction from almost every project over several decades? You wouldn't want to save a couple of bucks to settle OR to have to hire someone else to fix what was done wrong. Trust Alan and his team here at Arlington Custom Builders. We love Arizona homes, we value the trust our clients put in us, and we put quality above all else!