Is Hardwood Flooring or Laminate Right for Me?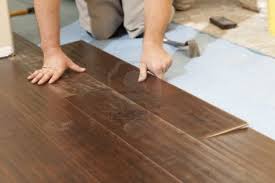 While many Phoenix home builders often use tile or carpet, sometimes a wooden floor can provide a more modern, natural look. Though hardwood floors usually sound more attractive than laminate, some of the cons can outweigh the positives. First off, if you're considering hardwood floor or laminate in your home, price is probably the first thing on your mind.
Let's start with the basics: laminate is composed of wood, which is fused together and then adorned, with an image of wood. While this might not sound appealing, buyers can get the look and feel of real wood at about half the price.  Laminate can be harder to replace, especially if a considerable amount of sunlight has discolored surrounding wood.
Hardwood floors can have a price, which fluctuates greatly, depending on how exotic the trees are. There is also usually a higher installation cost with putting in these floors, as they are trickier to manage. Wood floors are also easier to fix wear and age by sanding and refinishing rather than replace.
What does your house look like on a typical day? Is there a lot of action, kids running, around, and foot traffic? Laminate flooring resists scratches more than wood, and is easier to clean than traditional wood floors. While genuine hardwood can be scratched easier, it is considered more valuable and better looking than laminate.
If you have pets, make sure to keep their nails trimmed so they don't scratch the floor or create noise every time they walk around. Beware of any leaky sinks or faucets, which could damage wooden or laminate flooring.
A hardwood floor could last 100 years or more if taken care of properly, which includes re-staining from sun damage every few years. Laminate is a great option for those looking to cut costs or skip the upkeep of real wood floors. If you're looking for new flooring, give Arlington Custom Home Builders a call for a consultation.
[contact-form][contact-field label='Name' type='name' required='1'/][contact-field label='Email' type='email' required='1'/][contact-field label='Website' type='url'/][contact-field label='Comment' type='textarea' required='1'/][/contact-form]