3 TIPS ON WHAT RENOVATIONS TO AVOID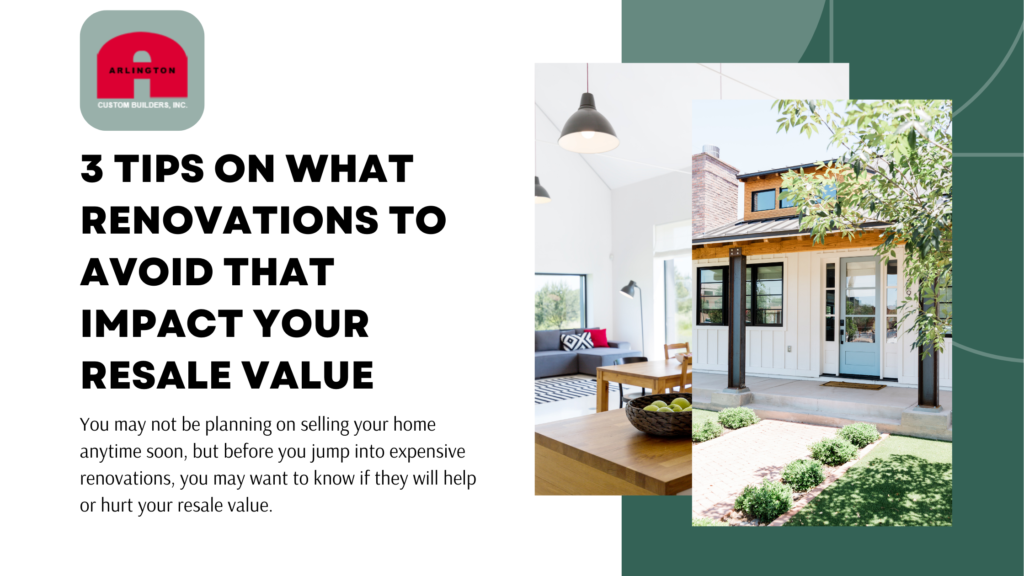 You may not be planning on selling your home anytime soon, but before you jump into expensive renovations, you may want to know if they will help or hurt your resale value. We see it all the time in our own renovations and sometimes homeowners are in their dream home and don't want to think about the resale value. But a lot of times, homeowners know that they don't know the future and want to make sure that the changes they pay for now can help pay off in the future. Let's talk about the 3 tips we have on which renovations we think you should avoid that impact the resale value of your home.
Tip #1: Too Much of Anything is NOT a Good Thing
Have you ever walked through a home with ALL carpeting in every single room?! You think, why would they pick this? Or a home that selects one type of older tile and it's in every living space and every room. Avoid too much of one type of any flooring. Adding simple contrasts make a big difference! If you want all tile in the home, talk to your contractor on how you can add some contrast. Sometimes that means adding a herringbone design in the hallway with the tile. Other times that means adding a different type of tile or different color in the bedrooms versus the living spaces. These are the small changes that make the biggest differnces.
Same thing goes with the walls! Too much wallpaper through the house hurts. Too much bold design choices can also hurt. Bold design choices can be bold colors through the home, bold tile, bold colored kitchens, etc. It may be perfect for you and your household but when it's time to sell, it's hard for other future homeowner imagine themselves in your home. Add your bold choices with pictures, curtains or decorations. That way you can remove them in the future.
Tip #2: Beware of Trends
Trends come and go. You can participate in trends in your home but be aware of what high priced renovations you decide to go with that are "on trend" currently. Spend your money on beautiful, timeless updates and add the decor to match the trends. Let us give you an example. We are on the tail end of the "gray trend". This is where everyone is making their floors, their walls, their kitchens, and bathrooms gray. This can be done beautifully but it is also reflective of a moment in time. Having too much of the current trend in your paid renovations doesn't often benefit in the long run. So if you are wanting wood grain tile in your next renovation and you are deciding between oak or gray wood tone – go with oak. It's timeless and appealing. If you want gray on the ground, do it with an accent rug!
Tip #3: Avoid Flashy Lighting
You would be surprised how many people are put off but your bold lighting choices. That chandelier you just had to have in each living space to brighten it up may be too bold and an overwhelming update for a new homeowner to see past. When you want to add statement lighting, talk to our interior designer, Brenda, let her help you decide on sometime timeless and simple that will still make a statement. There is a fine line between statement lighting and flashy lighting. Trust the professionals to help guide you.
We are not here to tell you to NEVER add any of these things to your home. All we want to do is ask you to consider how you spend your money and if it will pay off or hurt in the long run. We value doing what our clients think is best and we are here to answer all of your questions about how to make sure your style on your homes long term style (and value) meet in the middle!