2023 HOME RENOVATION TRENDS
Forbes released what they think will be the home renovation trends for this year. Let's discuss!
If you want to read the original article, you can find it here.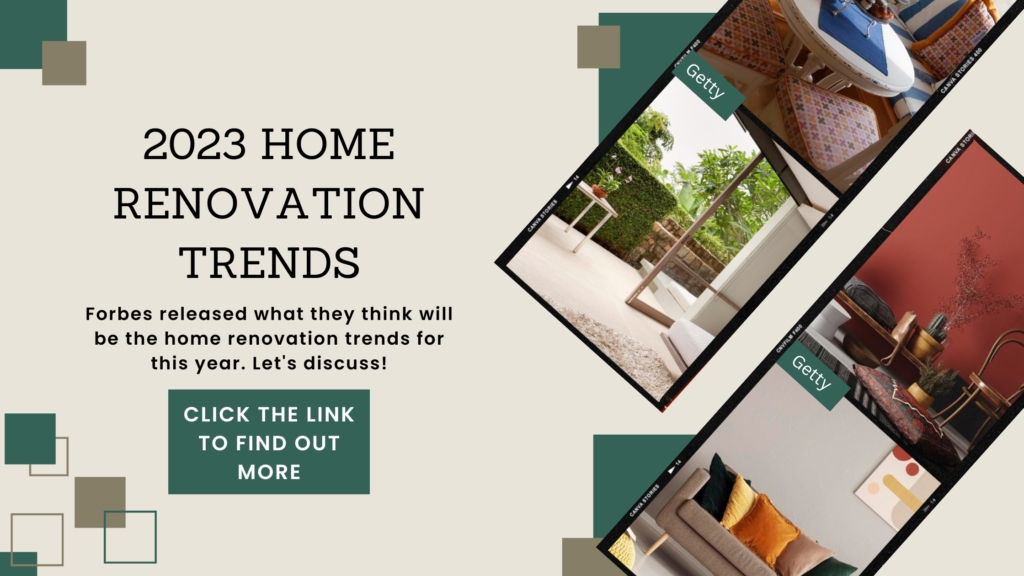 Kitchen Trends
Forbes predicts that we are going to see people renovating their kitchens to reflect more of the homeowner's personality. What they think is happening is that we have seen a more manufactured feel in the kitchen in the past, but now we will see a more "curated look". They are also predicting that we are going to see "calming, neutral, and earth tones" of colors incorporated throughout the kitchen. Islands still remain on trend as they have in past years. We are guessing it's because so many people like function in their spaces. Islands are great for gathering around while entertaining but they are also fantastic for kitchen prep for daily meals! Curious about what else the article say about kitchen, read more here.
Color Trends
Whether you are planning on painting, adding new tile, decorative accents or custom cabinetry we have the color trends for you to consider. As we just reviewed in the kitchen trends above, warmer neutrals are back on trend. We mentioned last year that we are seeing the gray trend begin to disappear and the warmer neutrals confirm what we have been seeing. Forbes mentions that these brown tones added a calmness to your space. It also allows for pops of bold colors in your decorations, pillows or art.
Bathroom Trends
We have always said your personal bathroom should be your sanctuary! We don't care if it was trendy to think that before, it's what we know makes a difference in your day-to-day to be able to have a place to unwind in your home. Forbes agrees by saying:
Another trend is the bathroom as a personal spa. "We are seeing more colorful but monochromatic gradients in metal that feel very dynamic but still calming," says Yacavone. "We are also seeing people integrating colorful lights in the shower that give form to water to create a sensory experience."

https://www.forbes.com/home-improvement/living/home-remodeling-trends-2023/
Living Space Trends
According to Forbes, we are seeing more of bringing the indoors outside, and the outdoors inside. Whether that means making a whole wall of floor to ceiling windows or huge retractable doors in your living space. These bring the light in and opens your indoor living space to your outdoor living space. This should not be a surprise to many Arizonans! We already love creating outdoor living spaces, so creating continuity between the indoor and the outdoor makes sense. Check out what Forbes has to say here!
As always, your remodel should reflect your personality and your lifestyle. So no matter what is "on trend", it doesn't need to dictate your remodel. We just find that knowing what trends are prevalent help guide the design discussion when it's time to discuss your next remodel. Not sure where to start? Talk to Alan and Brenda, out general contractor and interior designer for a consultation.