Your Bathroom, the Perfect Getaway!
Bathrooms are quickly becoming one of the popular rooms to remodel in 2015. Your bathroom remodel can be a way to display the personality and style of your family, all while being the perfect getaway. Have you ever considered upgrading your bathroom to become an oasis? The place in your home to relax and get away from it all? There are many ways you can make your bathroom the spa you always wished it was!
Walk-in shower with a rainfall shower head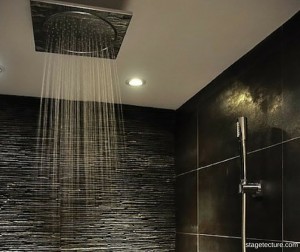 More and more people are saying goodbye to the bathtub and turning to the walk-in shower. There are many ways to make the walk-in shower feel more luxurious than your standard sliding door shower. One of the most relaxing, modern upgrades you can add to your walk-in shower is a rainfall shower head. It creates a soothing, comfort to your otherwise mundane shower routine. You can also add other accents and features to compliment this new, comforting upgrade.
Upgraded tile
Don't overlook the power of what new tile can do for your bathroom! Consider a patterned cement tile to add a dramatic, new look to your bathroom. This look can help add a southwestern look or vintage vibe. Also, consider floor to wall tile patterns as a great way to add a new look your bathroom. You can use two different tile styles throughout the bathroom to give it a look all it's own. Don't be afraid to get creative!
Character lighting
There are many lighting options you can add to your remodel that will be sure to change the look of your bathroom. Why not choose lighting that will make your bathroom feel luxurious? Chandelier's are now a trendy addition to bathroom remodels. It will truly make your bathroom feel like a place to make a getaway with a good book and a glass of wine!
Think outside of the box the next time you are ready to have your bathroom remodeled. Dream of how you want your bathroom to represent the style of the home and how you want it to make you feel. Then, start working with your contractor to make the creative additions come to life in your bathroom!