Tips to Enhance Your Outdoors Entertaining Space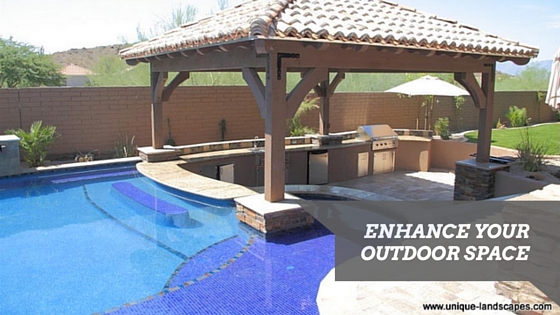 Only Arizona residents can understand the excitement that summer is almost over. Now begins the most beautiful time of the year. Arizona winters! They last long and the weather couldn't be better for spending your days outside. It's time to consider making your yard an entertaining gathering spot for all of your friends and family to spend time with you outdoors! Here are a few backyard enhancements you may not have considered before:
Swim-up bar
Since beautiful Arizona has an extended swimming season, why not take advantage in your own pool? Add a swim-up bar! There are many ways to do this to make it a perfect fit in your own backyard. You can also add a covered patio that will shade the bar/dining area for those who aren't cooling off in the pool. Nothing is more unforgiving than the Arizona sun, so if the patio shade isn't enough, consider adding misters! This new addition can also be used in the non-swimming months by having your guests gather around the walk-up side of the bar.
Detached covered patio with BBQ/dining
Covered patios are pretty standard here in Arizona. But you typically find them attached to the house. Why not do something a little unconventional and create a space detached from the house in an open area of your yard that could use a bit more shade. This space can be great for dining, lounging, outdoor bar and even a great area for a beautiful stone fireplace with plenty of seating. This will be a feature you can use for a large party of guests, a small gathering or even just Tuesday night dinner with your family.
Lounge area with flat screen television
Imagine inviting your friends and family over to watch the game in your beautiful outdoor space with a huge flat screen mounted on the wall! People can toss a ball around, eat and lounge around all while enjoying the game. By enhancing your back patio to become an entertainment and lounge space, you will find yourself making excuses to have people over just to use it.
While the weather begins to cool off, call Arlington to discuss your ideas for your backyard enhancements. Alan can make your backyard dreams come to reality! It will be something you will be glad you did!