Finding Purpose For Your Spare Room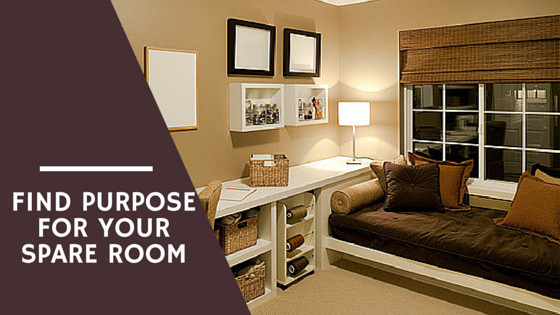 We all have that room in our homes that we try to hide. The one that only serves as a guest room a few times a year and then collects boxes and dust the rest of the time. It's time to get smart about the space in your home and make them functional for your daily life! Here are a few ideas to spruce up the spare room in your home.
 Craft Room
Whether you are a seasoned crafter or your kids love to get creative, this is the space for you. Organize your spare room in a way that you are able to fit a larger craft table with options for storage. Consider talking to your contractor to install built-ins along the walls to decoratively organize your supplies. Your guests will talk about what a great room it is and you will be able to use it on a daily basis while keeping the rest of the house crayon and glitter free.
 Home Office/Guest Bedroom
This is probably the easiest and most functional use of the spare room. Decide on a clean design with a desk and office storage that will suit your needs best. Then look into a bed that can also serve as a sitting area, preferably a daybed. This will allow a comfortable space for overnight guests and give you a quiet area to retreat to when working from home.
 Entertainment Room
Looking for a man cave? Do you need a place where the kids can play and watch their favorite movies? Make that spare room into an entertainment retreat. This space may be smaller than the standard entertainment room so here are a few space saving tips. Mount a flat screen television on the wall to eliminate the need for a large piece of furniture. Make sure to consider a couch that isn't so large that it will make the space feel tiny. Consider a smaller sectional that also has a sleeper option for guests, making this room multipurpose. When including storage, try to choose pieces that function as more than just storage. An ottoman or coffee table with a storage option is a great space saver.
Talk to your contractor and interior designer to get more in-depth options for your space. They will be able to take a look at that spare room and turn it into the year round, multi-purpose space of your dreams. Alan, at Arlington Custom Builders, works with you to make your vision become a reality!