Living Room Fireplaces That Stand Out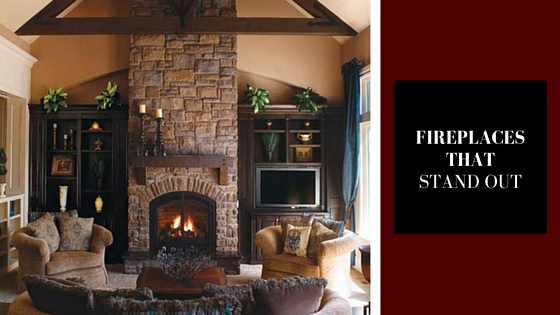 While the weather outside is cooler, there truly is no warmer spot in the house then by the fireplace. Many homes already have one and families spend quality time near it on cold evenings. The style of your fireplace can set the tone for the living room that it's in. Sometimes remodeling the area surrounding your fireplace makes all of the difference and other times remodeling the fireplace itself is the key in making your living room feel brand new. Which is the right direction for your home? Let's explore some of your options for living room fireplaces that stand out.
ALL ABOUT THE MANTEL
Don't overlook the strong design of a good fireplace mantel. This not only sets the tone for the look of the fireplace, but it also brings the style of the whole living room together. There are many different mantels you can choose from. The image below displays the clean lines of the classic white fireplace mantel. This can compliment a clean and modern living room as well as a more traditional living room. Mantel's like this do not limit your living room's design style.
STONE FOR VERSATILITY
When you have a stone fireplace, it brings an earthy, warmth into your home. The look is timeless and comes in many variations based on the stone type you use. This can be used for a more traditional look or if you are just looking to add a more cozy feel to your living room. Stone is a newer take on the classic brick fireplace and we don't think you can go wrong with this look!
MODERN STYLE FOR BOLD HOMES
For those of you who have a more modern home, this is the route for you! Your living room fireplace has to complement the look of the rest of your home. If your house currently has a modern, edgy, clean line look and feel, then take a look at more modern fireplaces. There are so many options, like the one below. You can even do a floating fireplace to keep all your house guests talking. Don't be afraid to make your modern home even more cutting edge with a fireplace that 'wows'!
Work with Alan, at Arlington Custom Builders, during your next living room remodel or custom build. Let him know your vision for the room itself and what kind of living room fireplace you imagine be the center of it all. Trusting his professional advice, he can help make your living room ideas come to life!