Lasting Trends for a Luxurious Arizona Kitchen Remodel
There is no denying that remodeling a kitchen can be a costly endeavor! However, a luxurious Arizona kitchen remodel leaves a lasting impression that can reap big benefits when it comes to reselling your home. Since the kitchen is oftentimes the focal point of the home, here are some remodeling tips that will keep your Arizona kitchen awe-worthy for years to come.
Kitchen Island Lighting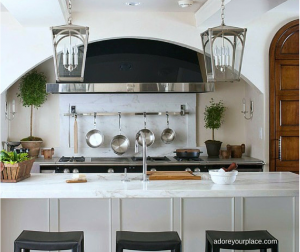 Having a statement lighting fixture above the island is an elegant way to make your kitchen feel lavish. With so many styles to choose from (industrial, modern, glass urns, etc.) you can't go wrong. Be sure to include multiple sources of light throughout the kitchen to produce a warm ambiance.
Reclaimed Materials
Nowadays, it is possible to have a gorgeous kitchen that is also energy efficient and friendly to the environment.  For instance, when done correctly, incorporating reclaimed wood to your kitchen provides a unique look. Using reclaimed materials for shelving or on the kitchen island adds appeal and warmth to the kitchen.
Modern Appliances
Nobody wants a kitchen to look outdated by seeing appliances that do not live up to the rest of the space. Invest in appliances that will make your time in the kitchen seamless. Embrace the modern technology of touch only faucets, built-in ovens and ranges. Buying a mid to high-range appliance is worth the quality and endurance you will receive!
The sky's the limit for luxurious options for your kitchen. Get creative and don't be afraid to add touches of your personality. Always remember, when remodeling, work with your contractor on coming up with the perfect layout!