How To Start Your Living Room Remodel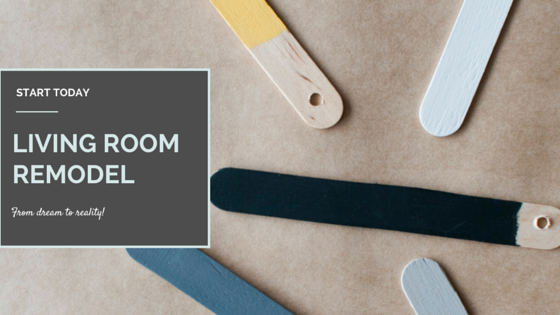 One can easily get lost on the boards of Pinterest looking through all of the beautiful living spaces. With so many choices and unique layouts it can be overwhelming to think about remodeling your own living room. Where do I start? How will it all come together? No matter if you plan on hiring an interior designer or contractor, it is smart to have a basic understanding of what YOU want from your living space. If you can answer the following questions, you are ready to begin!
How are you expanding your space?
If you are looking to make your living room feel more spacious, it might be a good idea to start thinking out of the box. This could mean removing a wall or making a partial wall. Maybe it is incorporating a new window to make the space feel warmer. Make sure you feel comfortable with the options that will drastically change the layout.
What colors make you feel happy?
Think about what type of feeling you are trying to evoke from being in your living room. Maybe it is relaxed or perhaps you want it to be more energized. Focus on that feeling and then start visualizing what colors help bring that feeling to life. If you can resonate with 2 to 3 colors that compliment each other, you will have an easier time picking out paint and accent pieces.
What is the focal point?
A living room is often used as a space to gather with others. It is nice to have a variety of comfortable seating. Knowing what the focal point of the room will be makes it easier to design the layout of the space. For instance, your focal point could be a jaw dropping flat screen television. Perhaps it's a fireplace or beautiful window.
What flooring do you envision?
Flooring can make a big difference in the look and feel of a room. Living rooms tend to get a lot of foot traffic. Wood flooring or decorative tile is an easy to maintain option that can stand the test of time. This also gives you the freedom to change out rugs and other carpeting to help keep the living room evolving over time.
Save time and money by taking the time to ask yourself these questions before renovating your space. You can always trust Alan at Arlington Custom Builders to help you develop a foolproof strategy. Knowing these answers will make your overall communication with contractors and designers easier.