How to Hire the Right Contractor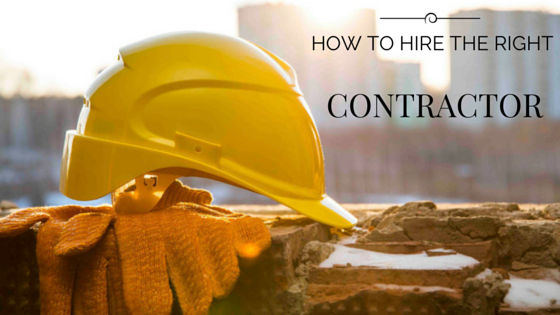 Hiring a contractor into your home is a big decision and not one to be taken lightly. Essentially, you will be working very closely with this person and they will be in your personal space for a long period of time. That is why it's so important to understand the following information about your potential contractor. Then you can rest assured that you are in good hands!
Good Reputation
Don't be afraid to do your research on the contractor. Ask how long have they been in business and then follow-up by doing your own research online. A good rule of measure is that they have been in business for at least 5 years and have a portfolio of work that they are happy to share with you. It should be a normal procedure for you to ask for references and a background check.
Written Contract
We all know the importance of having something in writing but it is easy to get caught up in the excitement of the remodel and move forward without the finalized plans on paper. Make sure it is documented whether the price is an estimate or fixed. Understand the breakout of cost for each item. This helps keep a mutual understanding of costs between the contractor and you.
Payment Schedule
Understand what is expected and what forms of payment the contractor receives. It is always recommended to pay with check or card instead of cash to keep track of expenses. Every contractor has a different process for receiving payment for services. It is crucial that you are both on the same page to avoid disappointment.
Job Site
Often times the contractor is working on many jobs and will have other people in charge. It is okay to ask how involved the contractor will be and the names of the people who will be overseeing the project. You want to make sure you feel comfortable with anyone who will be walking into your home.
By taking these extra cautionary steps before hiring a contractor, you will have peace of mind about who you hire to do the work in your home! You can trust Alan at Arlington Custom Builders to personally supervise all projects. Have comfort in knowing you are working with a company that specializes in quality, efficiency and trust.