Cool Gathering Spaces for Cooler Evenings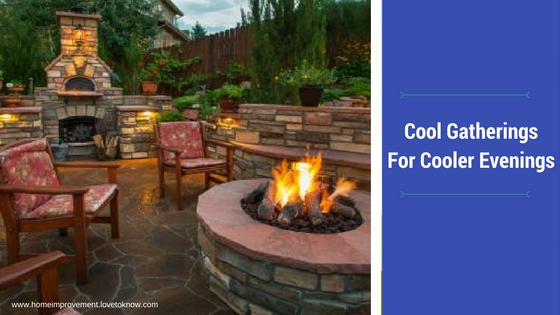 August is here, which means it's still hot and the monsoon season is in full swing. So why even think about spending time outside? Well in our minds, we see the end of heat in sight and cooler evenings on the horizon! Start thinking about all those beautiful, cool Arizona evenings you can be spending with your family or entertaining guests in your backyard. It's time to get started on those outdoor living projects you have been dreaming about. Our general contractor, Alan Anderson, has a few tips and tricks for ideal outdoor living upgrades.
Fire Pit with Built-in Seating
Thinking about building a custom fire pit? Maybe you already have one in your yard but it's missing something. We think a custom fire pit just isn't complete without custom seating. You have to have somewhere to sit comfortably while gathering with your loved ones or making s'mores! Work with a general contractor, like Alan Anderson, who gets to know your lifestyle to custom tailor these upgrades to your family's lifestyle.
Extended Covered Patio
This upgrade should not be overlooked. Most Arizona homes have a covered patio, but some are lacking the space needed for luxurious outdoor living. Extending that covered patio will give your family more space to really enjoy the great outdoors! Let's be honest, it's still pretty hot in October and having ample shade is never an option here. This is an addition that is nearly a necessity.
Patio Tile
So you may have beautiful tile around your home, but do you have the same outside? Imagine a pebble walkway leading from your patio to your pool. It is the simple touches that add character to your backyard. Think about something durable and stylish. When in doubt, talk to your contractor and see what he thinks would add that perfect touch to the style of your home.
Get ready for outdoor living this fall by getting to work on these outdoor home additions today! You will be happy you did when the weather is cool and your family is together enjoying time with one another! Don't trust any general contractor to get the job done right, trust Alan at Arlington Custom Builders.