Clever and functional remodels for your Arizona home
Want to make a change in your home but don't have the budget or time for a full-scale remodel? No problem! It's time to explore some clever and functional remodels for your Arizona home. Check out these 5 ingenious remodel ideas that you can seamlessly incorporate into your home. With the right contractor, these changes will save space and be a welcomed addition.
1. Two-sided fireplace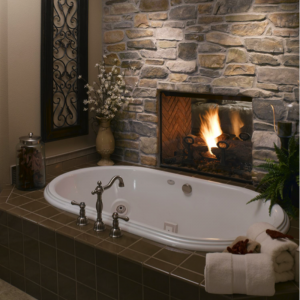 This look doesn't have to be just for fairytales! Add luxurious charm to your home with a two-sided fireplace between the master bedroom and bathroom. This unique use of space creates an awe factor and adds value to your home. Tip: For lower maintenance, look into installing an electric fireplace.
2. Built-in wine rack
Hello genius! Are you a wine consumer? Check out this great use of space! Not only is it a space saver, but it is also a decorative feature. Show off your favorite wines and make a bold statement. Don't forget how convenient it will be to have all of your favorite wines organized and within reach!
3. Mini-fridge in kitchen island

Summer is a great time to host pool parties with family and friends. Often times, the party ends up lingering into the kitchen for the cooler air. What a perfect location for a mini-fridge designated for refreshing drinks! You are sure to impress your friends with this convenient feature.
Walk-in showers look elegant and can be utilized in even the smallest bathroom. Another advantage is saying goodbye to streaky glass doors! Add some extra features like custom built-ins and a rain showerhead for a spa like atmosphere! Tip: To reduce slipping hazards, install a non-gloss finish to the floor tile.
5. Baseboard drawers in kitchen & bathroom
Have a collection of cookie sheets and extra baking accessories and nowhere to store them? This innovative remodel easily adds extra storage space without being an eyesore! What a relief it will be to no longer dig through cluttered cabinets to find what you are looking for.
BONUS
Having a staircase opens up many creative ideas! Use the space below for storage, a reading nook or even a bookcase! Nobody likes wasted space and your staircase is no exception. As a bonus, it is an extra special character feature to boast about when it comes time to sell your home!
Photo credits: eldoradostone.com, http://www.theyellowcapecod.com/, 
http://www.homedit.com/, myhomelookbook.com, http://www.familyhandyman.com/, 
brooklynberrydesigns.com